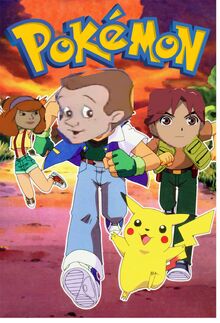 160Movies Spoof of Pokemon (1998) it will appeaers on youtube in the near future
Cast:
Ash Ketchum - Jeff (Pound Puppies and the Legend of Big Paw)
Mis - Daphne Blake (Scooby Doo)
Brock - Rai (Tai Chi Chasers)
Pikachu - Herself
Togepi - Herself
Delia Ketchum - Ann Possible (Kim Possible)
Professor Oak - Cadbury (Richi Rich (1980))
Gary Oak - Jones (Scooby Doo)
J - Katrina Stoneheart (Pound Puppies)
James - Marivn McNasty (Pound Puppies and the Legend of Big Paw)
Officer Jenny - Mako (Sailor Moon)
Nurse Joy - Kagome (Inuyasha)
Flint - Tuxedo Mask (Sailor Moon)
Forrest - Donha (Tai Chi Chasers)
Brock's Sibling - (Salvadore) Akira (Marvel Wars Disk) (Yolanda) Naru Osaka (Sailor Moon) (Timmy),Finn (Tai Chi Chasers) (Cindy) Rini/Sailor Mini Moon (Sailor Moon),(Tommy),Tori (Tai Chi Chasers),(Suzie) Chibi Chibi (Sailor moon Sailor Stars) (Twins),Marucho (Bakugam) and Max (Dragon Tales)
Dais - Velma Dinkley (Scooby Doo)
Lil - Jeannie
Viole - Josie McCoy (Josie and the Pussycats)
AJ - Jeremy Johson (Phineas and Ferb)
Giovanni - Zirconia (Sailor Moon)
Persian
Cassidy - Carmen Sendiego (Were In The Earth is Carmen San Diego)
Butch - Wrap Darkmatter (Buzz Lightyear of Star Command)
Ritchie - Ron Stoppable (Kim Possible)
Sparky -
Sketchit - Johnny Bravo
Marill -
Trivia:
Scooby Doo Sailor moon ??? and Pokemon both Release in 1998
Gallery:
Community content is available under
CC-BY-SA
unless otherwise noted.