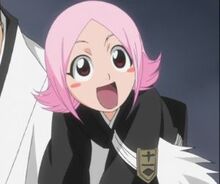 Yachiru Kusajishi (草鹿 やちる, Kusajishi Yachiru) is the lieutenant of the 11th Division in the Gotei 13, under Captain Kenpachi Zaraki, as well as the President of the Shinigami Women's Association. She is a character from Bleach.
Yachiru played ???
Voices:
Portrayals:
In

Bleach (160Movies Style)

she is played by ???.
Gallery: